www.SouthernRegion.net
South Western Suburban EMUs
The following three photographs by Clinton Shaw are featured courtesy of "East of Eastbourne, West of Waterloo: The Brian Groome Memoirs", published by Buggleskelly Books.

Brian Groome's memoirs are believed to be the very first published account by a BR (Southern Region) Revenue Inspector. They also include a detailed account of his time as a South Coast halt-keeper and "box-boy", a member of the platform staff at Waterloo and as a Central Division EMU guard based at Victoria.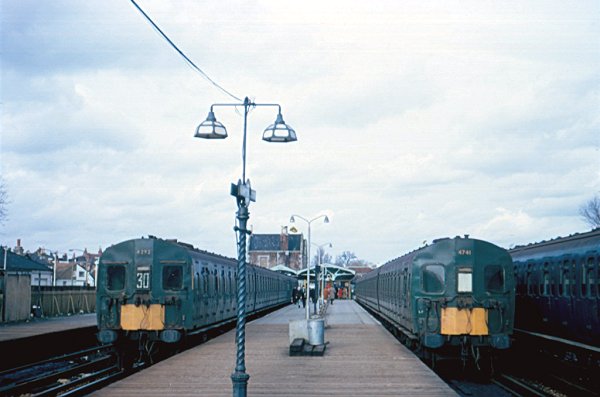 In the green livery which suited them well 4Subs Nos. 4292 and 4741 stand at Hampton Court. While both units are of the same class (405/2) No. 4292 was from the series introduced in 1948 (the unit was completed in March 1949 and withdrawn in June 1971) and No. 4741 from that of 1949 (the unit was completed in August 1951 and withdrawn in April 1976).
At the end of a short branch off the South-Western Main Line, Hampton Court terminus (which is actually in East Molesey on the Surrey bank of the Thames) was opened on 1 February 1849 and the photograph was taken on Saturday 1 st February 1969; the 120th anniversary of the opening. The surroundings of the station are currently subject to a controversial and contested development proposal.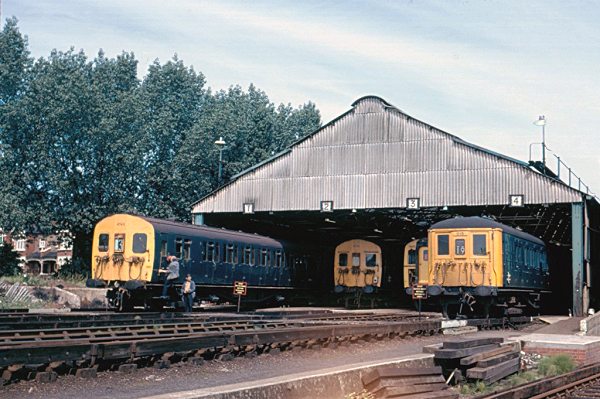 A view of Durnsford Road depot, Wimbledon, taken on an LCGB (Croydon Branch) visit on Saturday 7 th July 1973.
From left to right can be seen 4Subs Nos. 4745, 4379, 4Vep No. 7805 and 2-car de-icer No. 015. No. 015 was one of 10 de-icing units consisting of power cars from "3" units dating back to 1925. Converted in Sept. 1960 No. 015 previously carried the unit numbers 1504 and 4334.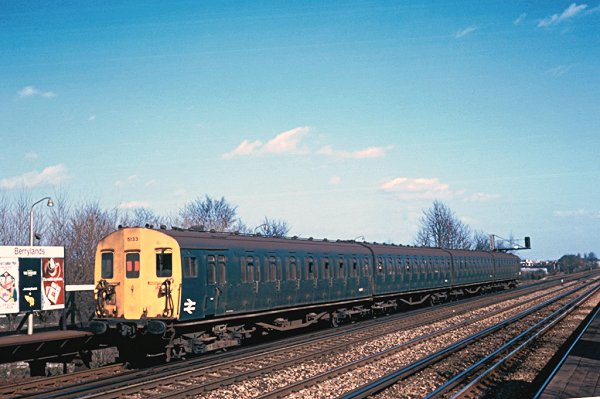 Saturday 16th March 1974 and SR design 4EPB No. 5133 stands at Berrylands station with the 1.23pm up service to Waterloo. The rather sparse Berrylands station serves an enormous area of 1930s housing developments which almost completely filled the land between Surbiton, New Malden and Tolworth.
Note the poster for Silk Cut cigarettes, "the Mild Cigarette", certainly a sign of the times...
last updated 15th November 2013